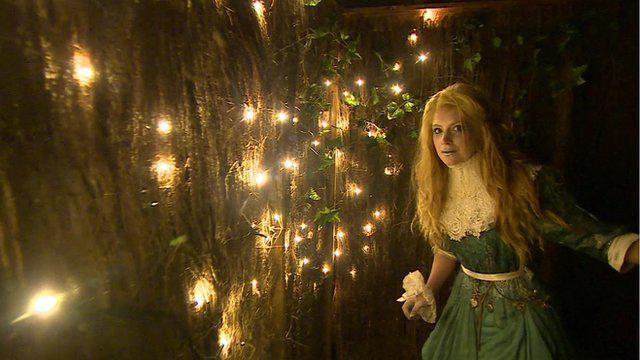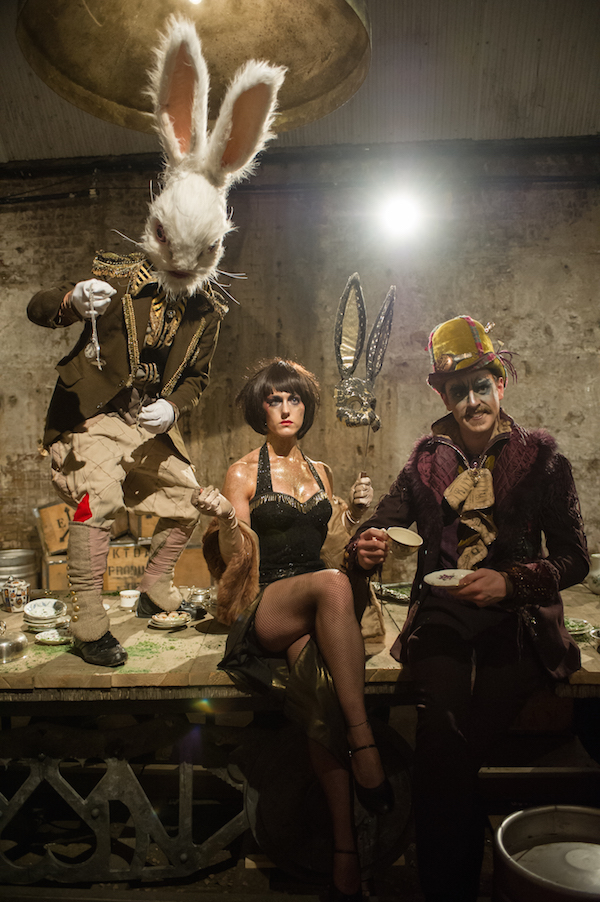 As a fan of the random and absurd, on hearing Wonderland was being recreated in all its nonsensical glory in the Vaults (a cavernous, subterranean arts space below Waterloo Station) to celebrate the 150th anniversary of the book, I obviously had to go and investigate.
The result is nothing short of magical. The experience starts with you literally stepping through the looking glass and through a corridor lined with pages of the book. You are soon greeted by the White Rabbit who offers

you a choice – EAT and

you magically grow several inches (as a result of a sweet little optical allusion) and enter Wonderland through the giant door on your right or choose to DRINK you'll shrink so small that you can steal through the tiny door on the opposite side. But choose carefully as this decision will have a big influence on your experience thereafter.
Over the course of the next hour my friends and I were immersed in Wonderland as we met its curious inhabitants who entertained us through a mix of music, puppetry, acrobatics and nonsense. As you walk through umbrella tree forests to get from one room to a next you feel a million miles away from the bustling streets of Waterloo. Unfortunately no photography was allowed during the performance. The above shots are from the web (see properties for source). Below are the only shots I was able to capture after the show (so hopefully your imagination can fill in the gaps!)

Temporary Suit Permit idenitfying your suit
Personal highlights of mine were the shisha-smoking Caterpillar's psychedelic lair where you sit on cushions as he relates the story of Alice's visit to Wonderland (I could have happily stayed there all day) and being recruited into the Wonderland Resistance Movement. And of course no visit to Wonderland would be complete without the Mad Hatter's Tea party (by far the most surreal tea party I have ever been to!)
The show ends in a court room as the Red Queen tries to ascertain which of the groups (Diamonds, Hearts, Clubs or Spades) ate her tarts. I was part of the group responsible for the 'Great Tart Heist' – no excuse other than it was as a result of a moment of jam-fuelled madness.

However just before we lost our heads Alice smashed through the Looking Glass and saved the day leading us into the bar where we whiled away our time wandering aimlessly around the hedge maze, meeting a whole host of other strange characters and playing flamingo croquet – a perfect end to a wonderfully random evening.
Wierd and wonderful creatures in the Wonderland Bar

Post-show fun in the Flamingo Bar
"Alice:
Would you tell me, please, which way I ought to go from here?
The Cheshire Cat: That depends a good deal on where you want to get to.
Alice: I don't much care where.
The Cheshire Cat: Then it doesn't much matter which way you go.
Alice: ...So long as I get somewhere.
The Cheshire Cat: Oh, you're sure to do that, if only you walk long enough."
- Lewis Carroll, Alice in Wonderland
NOTE: Alice's Adventure Underground runs from April 9

th

– May 30

th

at The Vaults -
http://www.alice-underground.com/