Afternoon tea is surely amongst the greatest inventions ever and definitely in my top ten reasons to love this city.
From being an absolute afternoon tea novice when I moved to London, over the past five years I have consumed countless dainty fingers sandwiches and delicious cakes everywhere from The Ritz and Harrods to tiny budget tearooms, in a carb-fuelled quest to refine my palate and become a Mary Berry-style cake aficionado.
The flipside to being so spoilt for choice is that it takes something truly special or unique to stand out from the crowd. That's why I have to hand it to the clever folks at Le Méridien Piccadilly who have taken the most decadent of English traditions and reworked it with a brilliant new twist.
Every Sunday throughout the summer they are hosting a series of afternoon teas (Patisserie Parties) inspired by the wildly extravagant reign of Marie Antoinette. Queen of France during the French Revolution, Marie Antoinette's lavish lifestyle, parties and fashion sense are the stuff of legend.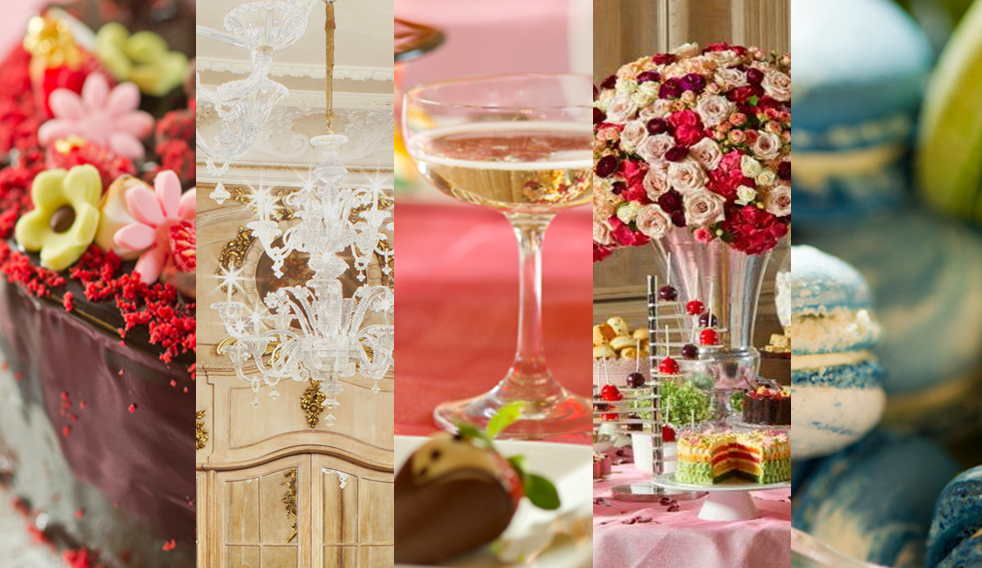 When I was invited along by my friend last week I hadn't heard of the Patisserie Party and really wasn't planning to write a blog post about it. However I enjoyed the experience so much I just had to spread the word!
Patisserie Party offers the chance for us all to feast like royalty in the gorgeous Oak Room (imagine a grand banquet hall with oak panelling and chandeliers) to suitably atmospheric 18th Century style tunes.
It all kicks off in standard fashion with a glass of prosecco, scones and sandwiches. However instead of getting a small selection of cakes on a stand at your table, you are instead directed to the bulging patisserie table in the centre of the room.
Filled to the brim with every type of cake and treat your heart (or stomach) could desire including rainbow cake, red velvet cake, cupcakes, cake pops and macaroons, I felt like a kid in a candy store as I debated whether to create a cake mountain on my plate or to be polite and just take one slice at a time.
Make sure to check out the little touches like the little suit and tie, painstakingly painted on each of the chocolate covered strawberries.
Oh and I should probably mention that you get an unlimited supply of cake and tea so the only thing stopping you is the inevitable sugar daze and sugar crash that will often follow.
However that's only part of the fun as in between pit stops to the patisserie table there is the chance to raid the dressing up chest which has Marie Antoinette style wigs, fans and masquerade masks, as well as 18th century hats, collars and wigs for the guys too. We had a hilarious time pouting and preening in front of the camera as we tried to capture a winning picture (the best picture wins a stay at the hotel so there is a bit of added incentive).
So what's the overall verdict? For a tradition that started with the Duchess of Bedford simply feeling a wee bit peckish in the middle of the day, sometimes you have to laugh at the seriousness and solemnity with which afternoon tea is treated. I
think Le Méridien Piccadilly have got it spot on by maintaining that sense of indulgence, whilst also injecting a whole lot of fun into the proceedings and for that reason alone it definitely wins my royal seal of approval. Bon appétit!!
The Patisserie Parties take place on Sundays afternoons from 24th May to 30th August and cost £39 per person. For more info and to book visit
http://www.lemeridienpiccadilly.co.uk/patisserie-party