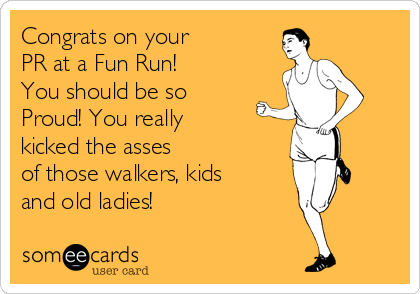 Surely the term 'fun run' is a bit of a misnomer? Don't get me wrong I am wildly jealous when people talk about the runner's high (that rush of endorphins where pain and exhaustion give way to complete euphoria) but despite some serious training for the marathon last year, I think I am destined to plod along painfully slowly, swearing under my breath as mothers with prams, the elderly and even people on crutches lap me.
After a 14-month hiatus from activities which bore any resemblance to exercise following my marathon outing I recently decided to dust off my trainers and get my butt moving again.
While still in the process of deciding exactly what my next challenge would be, a friend of mine suggested Tough Mudder.
For those of you who haven't heard about it, Tough Mudder it is a 15mile military style assault course that is billed as one of the toughest endurance events out there. The obstacles which include crawling through claustrophobia-inducing underground tunnels, barbed wire, electrocution and being dunked in ice cold water, strike me as something that the writer of Fifty Shades of Grey might dream up if she decided to take up an alternative career as a fitness instructor.
Having decided Tough Mudder was absolutely not for me (and now seriously questioning the sanity of my friend), I was on the lookout for another less intense way to get a bit of exercise. That's when I stumbled across Colour Obstacle Rush. Colour runs are a dime a dozen these days but this event offered something a bit different, combining a standard 5k run not only with coloured powder, but also with inflatable obstacles and foam. The event which was founded in Finland last year quickly became the most popular obstacle run in Scandinavia and is rapidly taking the rest world by storm.
Last weekend I completed the Colour Obstacle Rush at Kempton Park Racecourse, just outside London. After collecting my pack I was ushered into the pre-race area which had an incredible party vibe as I was greeted by crowds of runners pogoing on the spot to classic dance anthems whilst simultaneously throwing sachets of coloured powder up in the air, creating multi-coloured plumes of dust.
After an equally upbeat warm-up it was soon time for the main run. Even if this is your very first run there really is no need to worry - no one cares if you finish first or last, the Colour Obstacle Rush is genuinely just about having fun.
And it definitely succeeds at that aim. Every once in a while when I was starting to get shin splints I would be perked up by the sight of another colour station or inflatable obstacle to conquer. Some of the colour stations simply involved being pelted with coloured powder, while others were a little more elaborate, for example entering a tent lit only by strobe lighting, and crawling under netting and through a giant spider web while being pelted by powder from above.
However the coloured powder is only part of the fun. Let's not forget the obstacles which include everything from inflatable columns and zorbs (which block your path as you try and make it through to the other side) to inflatable hurdles, to name but a few. The race ended with me climbing up a giant inflatable slide and sliding down the other side into a sea of foam before collecting my medal and another colour pouch just in time to join the after party. I looked like a rainbow had thrown up on me and my legs and feet were totally covered with foam but it had been a truly epic run and I really wished I could do another lap.
So what's the overal verdict? Well if you are super serious about exercise and athletic challenges this run probably isn't going to be for you. Amongst other things having to dodge the walkers and having to queue for obstacles will no doubt be a source of frustration. However if your idea of a great exercise regime means looking mildly ridiculous but having an absolute blast, you can't go wrong. So congrats to the Finns on their genius idea - in my view it has definitely earned the title of fun run.