Life in London is so busy that I love those moments when the whole family gets together to catch up. As a tribe of food lovers, at some point the conversation inevitably turns to this crucial topic, leading to a never-ending stream of banter between my sister-in-law and I, because it is a truth universally acknowledged that my love of (very occasionally slightly dodgy) cheap eats is matched only by her love for fancy, Michelin style dining.
So I knew I was setting her a Herculean task when I challenged her to come up with ten can't miss budget eats in her birthplace, Hong Kong. True, Hong Kong is known across the world as a food lover's paradise. However it's also a travel destination where, the perception at least is, that a healthy bank balance is an essential travel requirement.
Lucita welcome to
Justacurlintheworld.
How nervous are you feeling about this challenge?
I'm actually feeling pretty confident. If you asked me to come up with 10 cheap eats in London I would seriously struggle. But Hong Kong on the other hand is a place where I believe it's possible to enjoy yourself and eat well if your budget is tiny or limitless
. Actually some of the places I crave the most are small, back-alley places serving food you struggle to find anywhere else in the world. So bring it on!
Ooohhh that's fighting talk. Well the proof is in the pudding. Remember the rules - ten eats that would work for those visiting HK on a backpacker's budget, all of them must be places you have tried yourself. No cheating and no duplicates.
No problem. Here's my 10…
No.1 - Mak's Wonton Noodle
Address: 77 Wellington Street, Central, HK Island
Mak's is a local institution which regularly has long queues right out
the door. The speciality is the traditional
wonton
noodles, cooked fresh while you wait. T
he noodles are served in small bowls so they don't get soggy, so it's best to order two helpings unless you have a very small appetite
.
The wontons are filled with pork and prawns and are packed with flavour. Crucially they don't scrimp on prawns which is essential for the perfect wonton.
No.2 - Tim Ho Wan
Address: 2 Hoi Ting Road, Tai Kok Tsui, Kowloon
Tim Ho Wan is famous for its baked bun with BBQ pork. It looks like a standard cafe which you would walk right past but it is something special and is even listed in the Michelin guide. The bun is cooked to perfection with a slightly crispy topping, fluffy centre and a filling which is the perfect balance of sweetness and saltiness. T
ry the steamed rice roll with pigs liver too if you are feeling adventerous, as it's also delicious.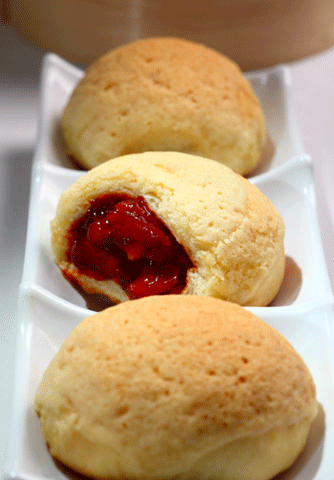 No.3 - Lan Fong Yuen
Address: 2 Gage Street, Central, HK Island
Come here to sample milk tea (black tea and milk). I know this description makes it sound rather unexciting, but the tea has an incredible smooth, creamy texture as a result of the addition of evaporated milk and also the fact that it has been sieved through a stocking. It is served both hot and cold, but it's better to order it hot to fully appreciate the rich flavour.
Address:
35 Lyndhurst Terrace, Central, HK Island
The egg tart at Tai Cheong Bakery is delicious. It's similar to a Portuguese custard tart but without the scorched topping. People queue up to grab them to take away as soon as they come out of the oven. Only those with incredible will power even
make it to the end of the street before finishing them.
No.5 - Y

at Lok Restaurant on Stanley Street
Address:
Conwell House, 34-38 Stanley Street, Central, HK Island
The roast goose at Yat Lok Restaurant is delicious and the Michelin guide clearly agree too as this place has been awarded a star. The goose is cooked perfectly - with a crispy skin and not too much fat.
Chinese people always ask for the left leg when ordering goose or duck because it is considered the most tender part. As a result it is priced slightly higher. I suppose if you were on a really strict budget you could go for the right leg to save some cash. The restaurant itself is a cramped, cafe style place which has long queues, especially at lunchtime but it's worth the wait.
No.6 -
Kwun Kee's Claypot Rice
Address:
263 Queen's Road West, Sai Ying Pun, HK Island
This is a local dish that I absolutely love. It is essentially plain rice cooked in a clay pot and topped with meat/seafood. It is cooked on a charcoal grill so the bottom ends up being almost burnt (but that is the tastiest bit). You pick the topping you want from a list of ingredients and it is cooked fresh while you wait. My favourite is Chinese sausage with spare ribs. However if you are feeling a bit adventerous try frogs legs and eel. Mix in some soy sauce just before eating. Truly delicious!
No.7 -
Australian Dairy Company
Address:
47 Parkes Street, Jordan, HK Island
While you are in HK you must try the steamed milk pudding, a traditional Chinese dessert made of steamed milk and sugar. It is sweet, smooth and addictive.
No.8 - French toast (in every cafe)
Essentially a peanut butter sandwich which is soaked in egg, before being deep fried and smothered with butter and syrup. Wash it down with some milk tea. Yes it's supremely unhealthy but it also tastes like heaven.
No.9 -
Crystal Jade La Mian Xiao Long Bao
Address:
Shop 3328, 3/F, Gateway Arcade, Harbour City, 17 Canton Rd, Tsim Sha Tsui,
Kowloon
Tiny dumplings with a very delicate outer layer. Inside is pork in a soupy sauce. You may have tried a similar thing at dim sum restaurants in your home town, but this is 100 times better. Well worth the visit.
No.10 - Street Food
Go to any busy street (such as Causeway Bay or Mongkok) and you will find the streets lined with with stall selling tasty
street food. I am not a big street food fan but this is an essential part of the HK experience. Make sure to try the fish balls and egg waffle. Oh and don't forget the stinky tofu!!
Wow! I have to tip my hat to you Lucita as I never thought you'd make it to 10. You even managed to sneak two Michelin starred budget restaurants into the mix......b
ut hold on a second, did you really eat the stinky tofu?
Well no I didn't eat that one because.............it just smells so bad!! However I am reliably informed it tastes really good and I thought your readers would enjoy it.
Fair enough I might draw the line at stinky tofu myself and even without that you safely made it to 10.
Congratulations! After all that budgeting you deserve a treat. Where should I take you?
How about cocktails at the Ozone Bar on the top of the Ritz Carlton Hotel in West Kowloon. It has the best views in town of the HK skyline from the open air balcony and is the perfect way to end your trip.
Hmmm.....that sounds ridiculously expensive. How about a takeaway from Chicken Cottage instead? I'll even go deluxe because it's you and throw in a wee bottle of buck fizz. Don't rush to thank me now. It's my pleasure!
Hahahahahaha. Some things never change!