Why have I started this post with a picture of a marshmallow and pretzel snowman luxuriating in a mug of hot chocolate? Is it a terribly intelligent comment on the meaning of life?............Nope you'll have to wait for a future post for that. It's simply that, as the temperature drops and I gradually start resembling a human icicle this picture never fails to simultaneously make me smile and feel a teeny bit warmer just by staring at it. Just look at the wee guy - how can you resist?
Cheerful festive food pictures aside, as it gets decidedly darker and colder outside I'm keen to share with you all just a few of the wonderful places which encourage me to venture out in this, the frostiest of seasons.
Enjoy the magical window displays at Fortnum and Mason
Christmas isn't Christmas without Fortnum and Mason's famed window displays. After one of the most deeply divisive years in recent memory, the folks at Fortnum have chosen a quite fitting theme - Together we're Merrier - for this year's displays. Their eight windows depict stories in which arch enemies are brought together for Christmas. The pairings include the Bull and the China, the Butcher and the Turkey, the Wolf and the Sheep and the Boy and the Brussel Sprout. The result is a real class act - quite fitting for one of London's oldest and most iconic department stores.
Warm up in a cosy London pub
London has a pub on every other corner but the Mayflower in Rotherhithe is no ordinary drinking spot. As the original mooring point of the Mayflower - the ship that that transported the Pilgrims to the New World (America) every inch is dripping in history. On a cold winter's day nothing beats stopping by to warm yourself by the open fire with a glass of wine and some hearty pub grub. Not only is there plenty of old world charm to enjoy but you've also got great views of the river and can spend forever daydreaming about w
ho might have sat on your very spot 400 years ago.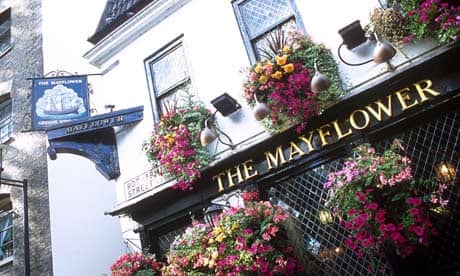 Get your skates on
I used to love watching figure skating when I was a kid. Every time I watched it I would convince myself that I too could do a triple lutz or axel whilst looking effortlessly graceful. In truth I looked like a newborn Bambi, all flailing limbs and zero coordination. Still Christmas is coming and that means that the coordinated and uncoordinated alike are drawn like moths to one of the city's many ice-rinks. The most popular and regal is Hampton Court - where you can skate to your heart's content with the beautiful views of a Tudor palace as your backdrop. Even better for my fellow Bambi's is the option to hire an ice guide who'll have your triple lutzing in to no time, or at least help you avoid causing a massive pile-up on the rink.
See the ghosts of Christmas past
Having been on many a ghost walk in my life and watched more episodes of Most Haunted than I feel it is wise to admit, I know a good ghost walk when I see it. Unfortunately despite London's often grisly history I've found most walks tend to miss the mark.
The exception to that is the Ghosts of the Old City walk which starts at St Paul's on Tuesdays and Saturday and explores the shadowy back streets and dimly lit alley ways of the ancient City. The Guides (The Duke of Darkness, the Shadow Walker and the Woman in Black) are brilliant performers who draw you into their world straight away. While none of the stories are so scary they will keep you up at night, you won't fail to be amused, enthralled and entertained throughout the evening by their tales of this historic city and its ghostly inhabitants.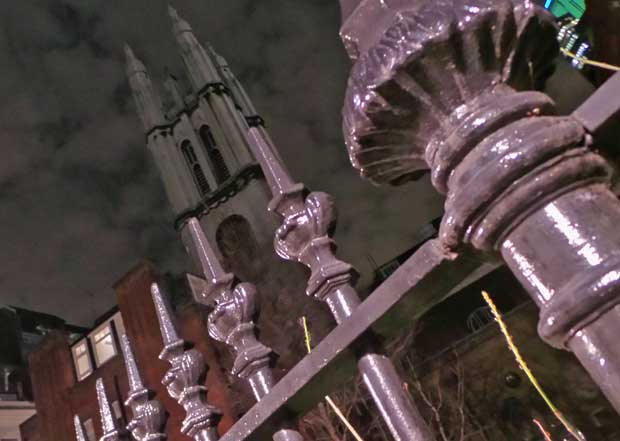 Chilled out Christmas shopping
Don't get me wrong, I absolutely love the Christmas Market at the Southbank but the huge crowds, especially on weekends, mean that after 15 minutes I am ready to be airlifted out of there. However Greenwich Market never fails to charm me, especially during the Christmas Season. Scrooge himself would have a hard time not feeling Christmassy whilst wandering down the cobbled paths under the twinkly lights,
shopping for cute, handcrafted gifts and feasting on mouthwatering churros from the Brazilian food truck near the entrance (don't leave without trying them!). You'll find yourself humming 'I'm Dreaming of a White Christmas' before you know it.
Take a walk in the woods
Whilst hibernating inside with the latest must-see series on Netflix seems far more tempting than taking a stroll round a park when it's so cold out, you'll be missing out on some gems if you do. The Enchanted Woodland at Syon Park sees the 600 year old woodland garden transformed by beautiful illuminations. The result is truly magical. The nightly guided walk is very popular and so bookings are recommended although there are a small number of on-the-door tickets available each day. The event finishes by the first week of December so get down there pronto if you want to go and don't forget your camera. If you're too late for this year don't despair, Christmas at Kew is pretty great too.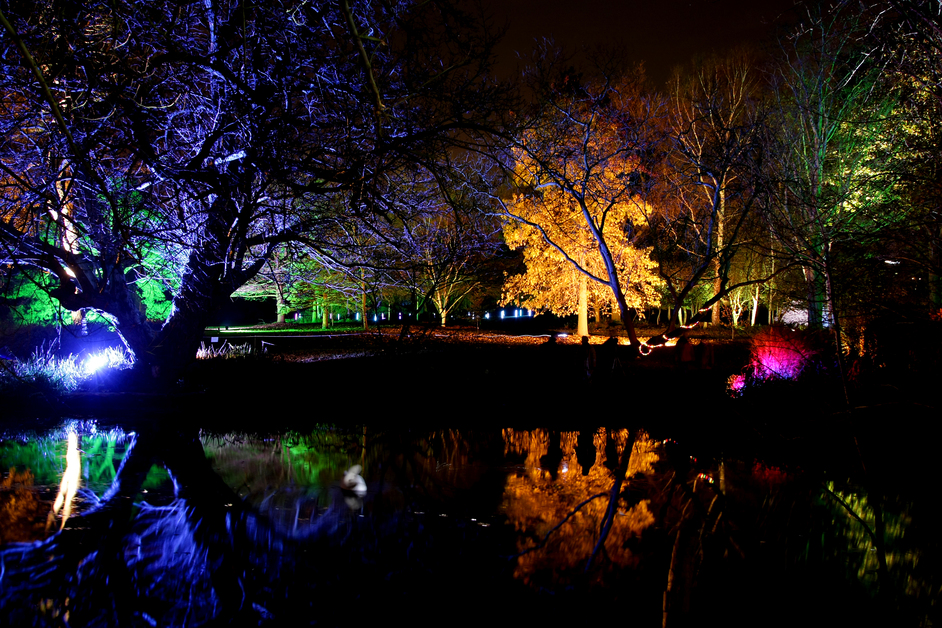 Christmas by candlelight
Dennis Severs' House in Spitalfields is less like visiting a stately home and more like an interactive time capsule experience. Visitors are invited to wander around the house following the lives and fortunes of a family of Huguenot silk-weavers from 1724 to the dawn of the 20th Century. As you wander from room to room you are immersed in the sight, smells and sounds of their lives and you are left with the acute sense that the inhabitants have slipped out just moments before. It was Dennis Sever's intention that as you enter his house it is as if you have passed through the surface of the painting, exploring with your sense and imagination a meticulously crafted 18th Century world.
And if all that doesn't make you warm the cockles of your heart then there is only one thing for it - yep a pic of a cat in a jumper. Consider it an early Christmas pressie.
Merrrryyyyyyyyyyy Christmas to one and all!